Posts for tag: dentures
By New Smile Dental Group
January 07, 2020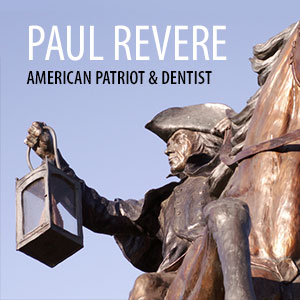 While celebrating all that a new year brings, take a moment to remember the New Year's Day birthday of a true American patriot: the legendary Paul Revere. Ironically, he became a legend some 80 years after his midnight trek to warn colonists of approaching British troops, thanks to Henry Wadsworth Longfellow's 1861 poem "Paul Revere's Ride." He was much better known to his fellow Bostonians as a prosperous silversmith, engraver—and "artificial teeth" maker.
That's right. Among his many business endeavors, Revere's résumé also included dental prosthetics, specifically custom dentures made of ivory. For the time, his work was state-of-the-art technology that far surpassed older tooth replacement methods.
But when we compare Revere's foray into the dental arts and today's restorations, his high quality 18th Century dentures were the proverbial "horse and buggy," while modern denture technology seems like "supersonic transport." Not only are today's dentures made of superior materials that are more "toothlike" in appearance, the means to create them using digital technology gives wearers a more secure and comfortable fit.
The modern denture—an appliance that replaces multiple or all lost teeth—is composed of a polymer base, usually acrylic that is colored to resemble gum tissue. Attached to this base are the prosthetic ("false") teeth that replace those lost along the jaw. These new teeth are usually made of a durable dental material like porcelain that looks and functions like real teeth.
The basic design of today's denture hasn't changed much in the last century. What has changed is our ability to create dentures that follow an individual jaw contours much more precisely. Using the latest digital technology, we're able to obtain highly accurate impressions of the mouth to guide the manufacturing process. Fit is critically important for how dentures feel and function in the mouth. If they are too loose, they become uncomfortable and limit which foods you can eat.
If that weren't enough, recent advancements with dental implants have taken dentures to an entirely new level, beyond anything imaginable in Revere's day. We're now able to create dentures that connect or are permanently affixed to implants set within the jaw, which makes them more stable and secure. An implant-supported denture also helps prevent bone loss, a weakness of traditional dentures, causing them to loosen over time.
As amazing as they are, we wouldn't have the modern version of dentures without craftsmen like Paul Revere who helped advance the cause of dental restoration. So, lift a glass of holiday cheer this season to this hero of the American Revolution—and of American dentistry.
If you would like more information about tooth replacement restorations, please contact us or schedule an appointment. To learn more, read the Dear Doctor magazine article "Removable Full Dentures."
By New Smile Dental Group
June 13, 2018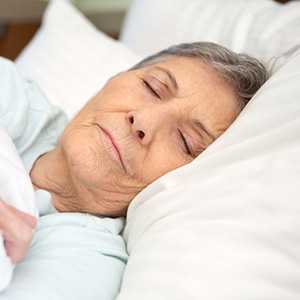 Perhaps you've heard the old saying: "Take care of your dentures and your dentures will take care of you." Well, maybe it's not that old—but it's still a sensible notion. Maintaining your dentures by routinely cleaning them and having them checked for fit will improve their longevity.
There's one other thing you should include on your maintenance routine—avoid wearing your dentures 24/7, especially while you sleep. This bad habit could lead to some unpleasant consequences.
For one, wearing dentures continuously can accelerate bone loss in the jaw that eventually causes your dentures to lose their comfortable fit. Bone loss is a natural consequence of tooth loss because the bone no longer receives the stimulation to grow transmitted by the teeth during chewing. Dentures can't transmit this stimulus; what's more, the pressure they place on the gums and underlying bony ridges could make bone loss worse. You can relieve this gum pressure at night by taking them out.
Dentures can also become a breeding ground for bacteria and fungi that cause disease, irritation and unpleasant mouth odors. Taking dentures out at night deprives these microorganisms of a prime opportunity to carry on business as usual—and it's also a great time to clean your dentures. People who sleep with their dentures in their mouth are more likely to have gum or oral yeast infections and higher levels of proteins produced by white cells that increase inflammation. That could contribute to other diseases throughout the body.
Besides taking your dentures out at night, you should also practice other daily hygiene tasks. Remove your dentures after eating and rinse them with clean water. Brush your dentures daily with a soft-bristled brush and dish or antibacterial soap or dental cleanser (no toothpaste—it's too abrasive for denture surfaces). Be sure you clean your gums and tongue every day too. When your dentures are out, store them in clean water or preferably an alkaline peroxide-based solution.
Removing your dentures at night and these other good habits will help extend the life and fit of your dentures. It could also help keep the rest of you healthy.
If you would like more information on denture care, please contact us or schedule an appointment for a consultation. You can also learn more about this topic by reading the Dear Doctor magazine article "Sleeping in Dentures: A Habit that Can Cause Health Problems."
By New Smile Dental Group
February 28, 2018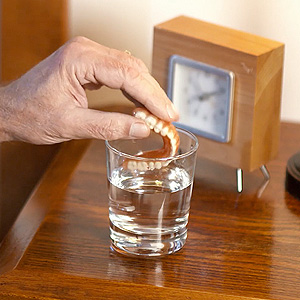 Dentures can be an effective and affordable solution for people who've lost all their teeth. With them a person can once again eat nutritiously, speak clearly and smile confidently — and with regular care they can last for years.
As part of that ongoing care, be sure you consider one important thing with your dentures: you may want to take them out at night while you sleep. If you do you'll lessen your chances of developing these 4 health problems.
Accelerated bone loss. Traditional dentures are fitted to rest securely on the gums. This, however, creates pressure on the gums and the bony ridges beneath them that can contribute to bone loss. Wearing dentures around the clock usually accelerates this process, which could eventually lead to among other problems looser denture fit and discomfort.
Bacterial and fungal growth. Microorganisms that cause oral diseases find conducive breeding spots on the underside of dentures while they're worn in the mouth. Studies have found that people who continuously wear their dentures are more likely to have bacterial plaque and oral yeast than those that don't.
Potentially dangerous infections. Bacterial and fungal growth increases your risk of oral infections that could affect more than your mouth. A recent study of elderly nursing home residents found those who wore their dentures during sleep were over twice as likely to develop serious cases of pneumonia requiring hospitalization. It's believed bacteria harbored on the dentures can pass from the mouth to the lungs as a person breathes over them while they sleep.
Blocked salivary flow. During the night our salivary flow naturally ebbs; wearing dentures while we sleep could cause denture stomatitis, in which the tissues covered by a denture (particularly along the roof of the mouth) become inflamed and infected with yeast. It's often accompanied by angular cheilitis or cracking at the corners of the mouth that becomes infected by the same yeast.
Wearing your dentures while you sleep contributes to conditions ranging from irritating to life-threatening. To prevent such problems clean your dentures as well as the rest of your mouth regularly — and talk to your dentist whether you should leave them out when you go to bed.
If you would like more information on denture care, please contact us or schedule an appointment for a consultation. You can also learn more about this topic by reading the Dear Doctor magazine article "Sleeping in Dentures."