Posts for tag: Crowns
By New Smile Dental Group
September 28, 2019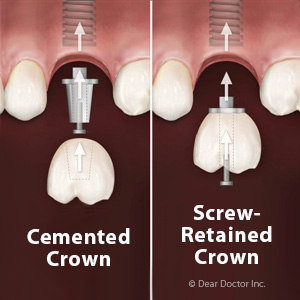 If you've lost a tooth, you have a number of options for replacing it. Perhaps the best choice in terms of lifelikeness and durability is a dental implant.
All implants have the same basic architecture: a titanium metal post imbedded in the jawbone to replace the root; and an abutment, a metal collar that links the post with a lifelike porcelain crown. But implants can vary in how the crown attaches to the abutment and post — either cemented to the abutment or screwed through the abutment to the post.
Either method will permanently secure the crown to the implant. But there are advantages and disadvantages for each.
A screw-retained crown may better facilitate any future repair that might be needed. For a skilled dentist it's a simple matter of removing the screw and then the crown from the abutment. There's less risk of damage to the implant during repairs or crown replacement. Many dentists also prefer screws for crowns placed at the same time they're installing the implant post (a procedure called immediate loading).
The screw access hole, however, could pose a cosmetic problem. Although we can cover it over with tooth-colored filling, it may still be noticeable and unattractive especially for a tooth visible when you smile (in the smile zone). There's also the possibility the porcelain around the access hole could chip.
By contrast, cemented crowns have a smooth, unbroken surface and are aesthetically ideal for smile zone teeth. But the cement could interact poorly with gum and bone tissue in some patients, causing inflammation and possible bone loss.
And unlike screw-retained crowns, cemented crowns are difficult to remove for implant repair. We may have to drill through the crown to access the screw between the abutment and the post, and then repair it cosmetically if we use the same crown. Again, the final result may not be quite as visually appealing.
In the end, it will depend on the implant's location, how your body reacts to the cement or your dentist's preference. In either case, though, you'll have a tooth replacement that's functional, life-like and able to endure for many years to come.
If you would like more information on dental implants, please contact us or schedule an appointment for a consultation. You can also learn more about this topic by reading the Dear Doctor magazine article "How Crowns Attach to Implants."
By New Smile Dental Group
March 13, 2019
There are many ways to improve your smile with cosmetic dentistry. There are procedures for repairing damaged teeth, brightening your smile, and improving the appearance of teeth with cosmetic flaws. At New Smile Dental Group, Dr. Navasart Kazazian and Dr. Apel Keuroghlian can help you select the right procedures to achieve the smile you desire in Glendale, CA.
Cosmetic Bonding & Contouring
Cosmetic bonding is a method for repairing teeth that are chipped or cracked, which cosmetic contouring can improve the appearance of teeth that are misshaped. Bonding can be used to seal cracks in teeth and fill in areas where teeth have been chipped. A resin material is applied over the chipped or cracked areas, and once dry, the resin is permanently bonded to the tooth and the chip or crack is no longer visible. Contouring is used to reshape your teeth by removing small areas of enamel until the tooth is reshaped as desired.
Dental Crowns
Dental crowns can be used to strengthen and restore teeth, as well as improve their appearance. Crowns are placed over problem teeth like caps. Once a dental crown is in place, the problem tooth is completely encapsulated by the crown. Dental crowns look just like natural teeth, but without any flaws. Your Glendale, CA, cosmetic dentists at New Smile Dental Group can help you decide if dental crowns are right for you.
Porcelain Veneers
Porcelain veneers can give cosmetically flawed teeth an entirely new look. Veneers are thin covers placed over the front surface of teeth to conceal imperfection, such as stains, discolorations, chips, or cracks. Veneers are custom made for a perfect fit. Additionally, the porcelain material used to make veneers looks strikingly like tooth enamel for a completely natural look.
Tooth-Colored Fillings
Tooth-colored fillings are a discreet alternative to metal fillings because they blend in with the natural teeth. A composite resin material is used to create tooth-colored fillings. The resin can be color-matched to your existing teeth, so no one will notice you have fillings.
Teeth Whitening
Professional teeth whitening treatments are one of the easiest ways to improve your smile. Both in-office and take-home whitening treatments are available at New Smile Dental Group. Both types of treatments utilize a professional strength bleaching agent to whiten and brighten teeth. Professional treatments deliver superior whitening results to over-the-counter products and the results last longer.
You can easily improve your smile with cosmetic dentistry. Dr. Kazazian or Dr. Keuroghlian are your Glendale, CA, cosmetic dentists, serving Atwater Village, Los Feliz, Montrose, La Canada, Tropico Flintridge, and Adams Hill. To schedule an appointment, contact New Smile Dental Group at (818) 547-4398!
By New Smile Dental Group
November 26, 2018
Having a full, attractive smile is important, both for your self-esteem and for your dental health. One of the most trusted ways to restore or replace a missing tooth is with crowns and bridges, which Dr. Navasart Kazazian and Dr. Apel Keuroghlian use routinely at their practice, New Smile Dental Group in Glendale, California. If you're missing one or more teeth, crowns and bridges might be exactly what you need.
What is a crown?
A crown is an extremely versatile dental restoration used regularly by your Glendale dentist. Usually made of porcelain, it's shaped like the topmost portion of a natural tooth. However, it has an indentation on the underneath side that allows it to fit snugly around a tooth that has breakage or decay that goes beyond what a filling or bonding can repair. When used with bridges, crowns strengthen the natural teeth on either side of a gap left by a missing tooth so that a bridge can securely fill it in.
What is a bridge?
The middle section of this restoration is the bridge; sometimes the entire appliance is known simply as a bridge. A bridge may consist of one or more porcelain teeth, depending on your individual needs. These teeth look like crowns, except they are solid in the center. Your Glendale dentist will cement the bridge portion of your restoration to the crowned teeth.
How crowns and bridges help
When combined, crowns and bridges become a restoration that makes your smile attractive and functional again. You'll feel confident about smiling, because your dentist will make sure that your crowns and bridges match the color and size of the rest of your teeth. By stabilizing your smile, you're also helping to protect your other natural teeth from shifting out of place. You can expect your crowns and bridges to last about a decade before needing adjustment or repair.
To learn more about crowns and bridges, or any other dental procedure, contact New Smile Dental Group in Glendale to make an appointment with one of our skilled dentists today! Proudly Serving: Atwater Village, Los Feliz, Montrose, La Canada, Tropico Flintridge, and Adams Hill.